Paperclips and Confetti is a participant in the Amazon Services LLC Associates Program, an affiliate advertising program designed to provide a means for sites to earn advertising fees by advertising and linking to amazon.com. For more info, read my disclosure policy.
This shop has been compensated by Collective Bias, Inc. and its advertiser. All opinions are mine alone. #HappierFirstMoments #ForBetterBeginnings #CollectiveBias As always, I only share products that I actually use and love!
Family adventures are our favorite! Living in Utah, we are lucky to be surrounded by so many beautiful places to explore. But having a newborn means that we have to be a bit more careful about planning our time away from home. There are several things to consider, such as nap times, feeding, crowds, germs, and hot temperatures.
Planning:
When you're planning your adventure, be sure to think about all of the things you may need. For example, when we lived in Florida, it would be sunny for most of the day and then rain almost every evening between around 3pm-5pm. We had to plan our days either before that or after so we didn't get stuck in pouring rain.
Here in Utah, it gets REALLY hot! While a day at the zoo sounds like fun, the idea of being out in hot temperatures, often times over 100 degrees, it quickly changes a fun day into something kind of miserable. We love to get outside and relax, so we either try to go out in the morning or evening when the temperatures are more tolerable. We also try to seek out places that have some shady areas so we can keep Avalynn out of the sun.
Kids have short attention spans. We now have a newborn, a preschooler (age 3), and a kindergartner (age 5). We have to find things that are age appropriate that both the boys will enjoy. Going to see a movie as a family is something we enjoyed before Avalynn was born. But I am not comfortable bringing a newborn to a loud movie theater.
This week, we came up with the perfect plan for a fun family adventure that would work for our entire family! We decided to drive into Provo Canyon and have a family picnic in a shady park area surrounded by beautiful mountains, fresh running water, and away from crowds. It was just what we needed! We enjoyed having the entire park to ourselves and we even saw some squirrels and butterflies! It was SO much fun!
Packing:
If you have kids, you know that leaving the house is a job to say the least. Packing up for three kids, one of which is a newborn, is not easy. Let's talk about what to bring in a bag for a summertime outdoor picnic with a new baby:
Multiple changes of clothes
Diapers and Wipes
Extra pacifiers (in case one falls while we're driving)
Burp Cloth
Blankets
Playtex Baby™ VentAire® Bottles
Water
Formula (I had to recently start supplementing due to milk supply going down again)
Bumbo (She LOVED sitting in it while we sat on the blanket and enjoyed our picnic lunch
Changing mat
Bibs (for drool- I think she's teething!)
Sunglasses, Sunscreen, & Hat (to protect from sun)
Picnic basket with lots of food and snacks (We brought egg mcmuffins, fresh fruit, crackers, and cheese spreads) along with juice
Roll of paper towels
Extra bags for trash/diapers/etc.
Our First Family Picnic Adventure:
We had such an amazing first family picnic! We brought our family gnome on the adventure. We arrived to an almost empty parking lot and got to find the perfect tree to spread out our picnic blanket. We got all of the food served and started eating while Avalynn hung out in her car seat for a couple minutes. Once we had a couple bites, I moved her into her Bumbo so she could sit with us and be part of things. The weather was just perfect with a nice breeze blowing. As we sat under the shade of the tree, it was the perfect temperature! Much cooler than in the sun! After we ate for a bit, Avalynn decided it was her turn. She gets hangry like mommy!
I got her bottle all ready for her and Drew and I took turns feeding her so that we could also both eat. The convenience of bottles is really nice when you're out and about! I loved that both of us could feed her and eat! Once she was fed, she was a happy little camper again! We finished our lunch and watched the boys run around in the grass and play hide and seek behind the trees. It was so refreshing to just be outside enjoying fresh air and beautiful scenery as a family and know that Avalynn was full and happy! I can't wait for our next family picnic!
Why Playtex VentAire Bottles?
We have used Playtex VentAire bottles for all three of our babies! They are seriously amazing! The design is slightly curved which makes it easier to hold at the perfect angle for baby. The bottom portion has a little rubber insert that goes over a plastic piece which has a few holes in it. When you tip the bottle down to feed your baby, the air stays at the top of the bottle. This means there is less air going in baby's tummy which seriously reduces, and even helps prevent, reflux issues. I have friends who have had babies who suffered from bad reflux and when I recommended these bottles, they noticed a big difference.
The bottom piece that removes and separates makes it SUPER easy to clean these bottles. I hate not being able to clean things or having to rely on tiny little toothpicks to get to the hard to reach spots. When it comes to baby items, easy cleaning is a huge plus. I also love the size of them! They are short and fat which allows them to fit easily into pretty much any bag or cold storage compartment. I recently got this gift set that comes with 3 6 ounce bottles, 2 9 ounce bottles, and a couple extra little pieces (1 SlowFlow Nipple, 1 NaturaLatch Medium Flow Nipple, and 2 replacement vent disks (these go in at the bottom). All of the PLaytex nipples are interchangeable with different Playtex bottles! I love these bottles so much I wouldn't ever switch. That's coming from a mom who has used these for three totally different babies.
Interested in Playtex VentAire Bottles for your Baby?
Click through the photo below to buy them from Target: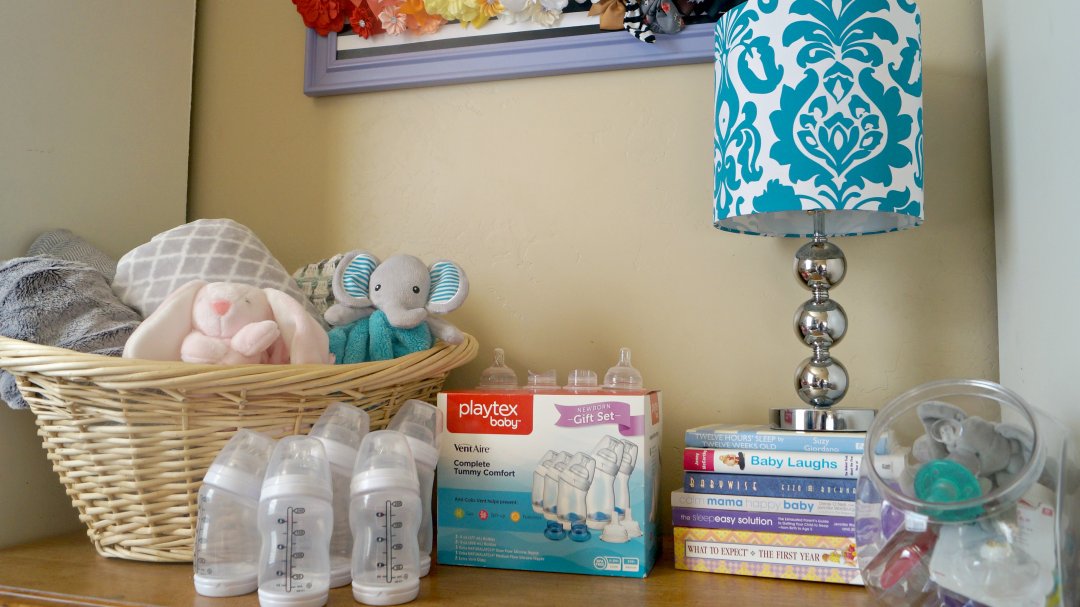 Introducing the bottle to our babies was kind of special for us because it allowed my husband to be part of feeding time for our babies. I've always done a combo of breastfeeding, pumping, and a bit of formula (as needed to make sure my babies aren't hungry). These bottles have always worked well for switching back and forth. As a new mom, you have NO IDEA how exhausting the first couple months can be. Recovering from having a baby and dealing all the physical changes that come with it as well as feeding that sweet baby ever 2-3 hours is a lot. I was also happy to have my "backup" (stored breast milk) in case I needed an emergency nap. I recommend this to all mamas! That feeling of even 5 consecutive hours of sleep can go a long way for a sleep deprived mommy. Or even the luxury of taking a long shower and getting ready or getting your hair done. Whatever you need to just give you that extra time to yourself to help with recovering and feeling good, being able to have your husband help feed the baby will give you so much freedom. For us, we were able to do things in shifts so that before she was sleeping through the night, we could each get 5 consecutive hours of sleep. (I'm very thankful my kids have such an amazing daddy who is willing to help out like he does. I know that not all dads are this awesome!) These bottles are a must have for any baby registry! You can find them in the baby bottle section at Target (look for the red top boxes!):
Save 25% on Playtex VentAire Bottles at Target:
If you're like me, the words "save" and "Target" are enough to put a big smile on your face! And you should, because this deal is amazing! From now until July 28th, you can save 25% off on this Playtex VentAire gift set at Target using Cartwheel. Cartwheel is a FREE app that gives you hundreds of instant savings at Target. It's super easy to use! You just download it, search for deals, add them, and then have the Target team member scan your barcode at checkout. You can search by category (These bottles are in the baby category) or by % of savings. They are always adding new deals to the app.
Download Cartwheel and save 25%
on Playtex Baby Bottle Gift Sets (Nurser or VentAire), 7/15 – 7/28
What are YOUR favorite summer adventures with baby?
XOXO